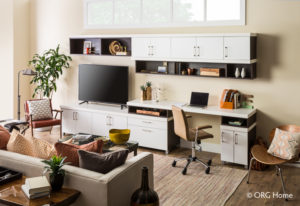 In today's world a home office is almost essential. Whether you are working at home or just need a quiet place to relax, storage is a vital component of a home office.
Sierra Nevada Cabinets & Closets has helped hundreds of Reno residents design and organize home offices. Desks, storage cabinets and reach-in closets are just some of what you will find in a custom home office.
Home Office Organization
Designing your custom home office comes with plenty of questions. How much desk storage space do you need? What is your home office primarily used for? How much should be hidden versus showing?
Our home office experts help answer those questions and walk you through the design process step by step. We work to:
 Measure your office space to determine desk size, additional cabinetry needed and and measure any closet space
Design your home office layout according to your specifications
Create 3D images for a 360-degree view of your home office.
Order and install home office cabinets, desks and storage units.
Create or rebuild any necessary closet space for extra storage.
Professional Home Office Installation
Sierra Nevada Cabinets & Closets is professionally licensed and well experienced in home office design and installation.
We have helped clients in Somersett, Montreux, Wingfield Springs, Kiley Ranch, South Meadows, Carson City, Gardnerville and the surrounding northern Nevada area.
Ron Pringle, owner and CEO, holds over 25 years experience in the cabinet and closet design industry. From design to installation, Ron works with you to ensure accurate customization of your home office.
Custom Designed Home Offices
Our products are designed and created by ORG Home, an experienced manufacturer in our industry. Our most loyal affiliate operates right here in the United States.
This combination gives you access to a variety of custom products. You can count on us for smart organization, colors and styles to complement your home.
Trust Our More Than 25 Years of Experience!
Call (775) 358-5121 For A FREE Consultation Today!